Band Together to Ban Chemtrails in 2013
Chemtrail News, Featured
Tuesday, January 8th, 2013
http://socalskywatch.wordpress.com/2013/01/01/band-together-to-ban-chemtrails-in-2013/
Stop the Nonsense! It's Common Sense!
Just Look UP! The planet is polluted with aerosols sprayed from planes continuously in strategic fashion. How many pictures and videos need to be posted to reinforce this fact? Sure, many people will never believe The Powers That Be would spray us like bugs! Some people do not want to know and choose to remain ignorant. Why let a "jet trail" ruin your day, right?
Zoomed in view of geoengineering spray plane.
If you know the difference, please, do not let truth deniers ridicule you from what your intuition tells you when you see jet "contrails" forming into various cloud formations. People from the older generations and the very young seem to intuitively spot the obvious. People who grew up before cable TV, the internet & cell phones saw the sky before this mess became a full scale global operation. They can see the difference if they are aware or care. Children also see things and ask innocent questions. They see "rocket trails", which many of their parents see as jet trails. The older generations saw bunny rabbits in puffy clouds, but only rocket trails if they lived near a NASA launch site.
Massive aerosol clouds. Note the square ends.
Chemtrail line clouds.
LOOK UP! This is already happening with covert, yet obviously visible, aerosol spraying using jet planes! The mainstream media avoids this fact by not covering it, dismissing it or when hundreds of callers ask what "it" is, they reply with the cover story of military chaff. This operation "in which aircraft or other targets spread a cloud of small, thin pieces of aluminium, metallized glass fibre or plastic" over heavy populated cities needs to be questioned as to why and to what effect this has when it falls out on people, pets, wildlife, our croplands, water – the air we breath!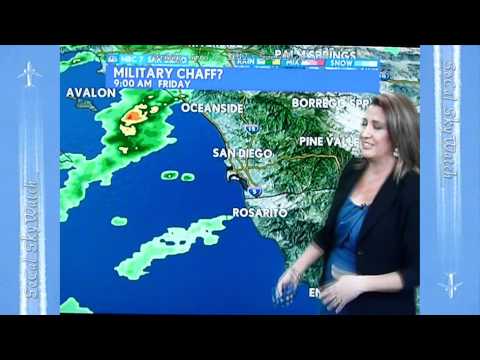 Take Action to Stop Aerosol Geoengineering (Chemtrails)
Tell family and friends your concerns! Point it out and watch the sky change.
Share your concerns with environmental groups, farmers, asthma & respiratory patients, Alzheimer's groups and others directly affected by the chemical spraying.
Call local weather reporters and ask questions about the excessive jet traffic and the pollution left behind. Do not use the word "chemtrails" when speaking with any "officials".
Take pictures/video and post to social networks. You are not alone, others will note they saw it too.
Post comments on weather blogs, news reports, YouTube videos and such.
Join or start a chemtrail MeetUp group in your area.
Show free screenings of documentaries such as, "What in the World are they Spraying".
Protest with signs in a public place on a heavy spray day.
Support and Vote for independent candidates who acknowledge these activities.
Demand and support local ordinances to restrict such aerosol spraying.
Painting a "LOOK UP" banner.
Stop Chemtrail Geoengineering!
New Year's Eve Coastal Chemtrails in San Diego
12/31/12 Last day to spray in 2012. Chem cloud dumps drift in over the city from all the aerosol srpaying over the ocean. Clear blue skies inland most of the day. Happy New Year! STOP THE SPRAYING IN 2013!!!
Band Together to Ban Chemtrails in 2013

,
Posted by
Community
on Jan 8 2013. Filed under
Chemtrail News
,
Featured
. You can follow any responses to this entry through the
RSS 2.0
. You can leave a response or trackback to this entry